Hi! Decided to link up with the MHO Monday Mingle #11 and there's a theme! Sounds like fun.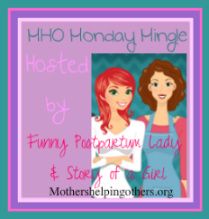 This week's theme: SPRING
1. What is your favorite part of Spring?
Butterflies - I love butterflies, flowers blooming, birds singing, and my kids actually wanting to play outside. But it's all because I know that summer is right around the corner.

2. What is your favorite holiday or date in Spring?
Easter


No, summer is my favorite season. I grew up in southern California, so I love when it's as warm as it can get here in NY. The humidity is not great, but as long as it's over 70 degrees, I'm good!


4. Has Spring been what you've expected this year?
Uh, no. The winter lasted too long this year. It rained and snowed throughout March, and April doesn't seem to be able to make up it's mind. I think it's keeping the flowers from blooming already!
5. Thinking about my last question, what would be the perfect Spring for you?
The perfect spring would be summer! I can't help it. I'm just a summer girl at heart!


Okay, your turn! And Happy Earth Day!

~Michiko